Largest Suppliers & Manufacturers of 310 Anchor OnTime Delivery+Low Rate, Call Now! High Quality Products · SS 310 Anchor Manufacturers India
We Export in India : ( Suppliers Exporters and Stockist in ) Mumbai, Bengaluru, Chennai, New Delhi, Pimpri-Chinchwad, Hyderabad, Pune, Kolkata, Gurgaon, Navi Mumbai, Ahmedabad, Noida, Vadodara, Thane, Chandigarh, Indore, Surat, Bhopal, Faridabad, Rajkot, Secunderabad and more..
Shivshakti Metal Industries is India's Largest Manufacturer of Round Steel Anchors. We supplying & Stocking Various Shapes, Sizes and Diameter Refractory Anchors, We are dealer of SS 304 Refractory Anchors in Public-Sector & Government Sector Companies Like Ongc, Barc, Bpcl, Indian Oil, Bhel And Many More. check Special Price of SS 316 Refractory Anchors, Stainless Steel V Shape Refractory Anchors. We Have Our Dealer & Distributor of Y Shape SS 304L Refractory Anchors & V Shape Refractory Anchors in Israel, Germany, Saudi Arabia, Oman, UK, France, Italy, USA, Qatar, Iran, Australia, Sweden, Russia, Indonesia, Malaysia, Canada, UAE, Kuwait & Singapore.
If You Are Looking for Stainless Steel Refractory Anchors at Best Price in India, Shivshakti Metal Industries Can Offer You Updated & Latest Price List of Stainless Steel V Anchors and Titanium Alloy Y Anchors. We Have Around 300 Ton Ready Stock of Stainless Steel Refractory Anchors in Surat, Pune, Nagpur, Indore, Thane, Bhopal, Visakhapatnam, Vadodara, Nashik etc.
Refractory Anchor & Fastener

The refractory anchors and fasteners from the house of Jignesh steel India come as quality outputs that are composed using high-end mechanical sub-systems for utility with the best for a long run. The anchors from the house of JSI come as industry leading inputs that come for a variety of industrial backgrounds simultaneously. We also offer our production worth at industry leading prices
Stainless Steel Anchor

We offer a wide range of stainless steel anchor that are manufactured in various specifications including grade of materials, dimensions, spacing patterns and welding methods. Our stainless steel clamps have 66% to 75% of the lining depth, whereas the spacing depends on material type, operating conditions and physical characteristics of the unit. Its features are:

Anchors alloy Hot face temperature.
Mild Steel 540°C.
Stainless Steel 304 1080°C.
Stainless Steel 310 or 316 1350°C.



Sleeve Anchor

Our sleeve anchor are available in various bolt size and length and have unique sleeve design to provide pull down onto fixture. These sleeve anchor are used in concrete, masonry, grout filled block and hollow block, heavy loading capacity and are available in 5 head styles. Its dyna bolt can be installed through object to be fastened. It is also used for fixing radiator, lamps, shelves, skirting boards, switches, window frames, overhead cabinets, curtain rails, cable ducts, boilers, wardrobes. These sleeve anchor are made up of 304 and 316 stainless steel.
Metal Anchors

We offer a wide range of Anchors that are known for their high efficiency, durability and wide functionality in the market. These anchors are sourced from our reliable vendors in order to deliver quality products to our customers. The forming is done in such a way, that the purpose of hooks is fully achieved. Our customers can resource these from us at competitive prices in standard and customized forms as per their requirements.

Features:

Corrosion resistance
Application specific designs
Longer service life



Stainless Steel Refractory Anchors Specification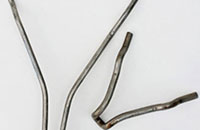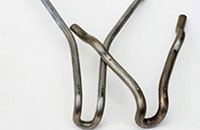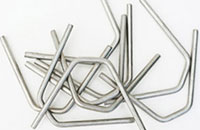 Type
Refractory Anchor
Standard
ANSI
Material
Stainless Steel: SS 304, SS 304L, SS 309, SS 309S, SS 310, SS 310S, SS 316, SS 316L, SS 321, SS 321H, SS 347, SS 347H, SS 446, 253 MA, AL6XN
Hastelloy: Alloy C22 , Alloy C276
Monel: Alloy 400
Titanium: Grade 2, Grade 5
Nickel: Alloy 200, Alloy 201
Alloy Steel, Carbon Steel, Duplex Steel, Super Duplex Steel, Copper, Copper Nickel, Brass, Aluminium, Nickel Alloy
Length
Customized
Diameter
as per request
Finish
Light
Capacity
1500-3000 KGS
Types of Stainless Steel Refractory Anchors.

V Anchors
Y Anchors
WV Anchors
Corrugated Anchors
UV Anchors
Welded and Twisted Anchors
Split Tyne, Stud Welded and Rotalock Anchors
Christmas Tree and Strap Anchors
Ceramic Anchor Brick Clips
Shelf & PV Anchors
Shelf Brackets & Fabricated Parts
Ceramic Fibre Fixings

Application
Refractories, refratory fixing parts, furnace lining, duoflex kiln burner
Stainless Steel V Shaped Refractory Anchors
Owing to our strong workforce and industry experience, we are engrossed in manufacturing, exporting and supplying an extensive range of Stainless Steel V Shape Refractory Anchors

V Shaped Refractory Anchor

V Shaped Flat Base Refractory Anchor

V Shaped Winged Refractory Anchor

V Shaped Winged Flat Base Refractory Anchor

V Shaped Corrugated Flat Base Refractory Anchor

V Shaped Corrugated Short Leg Flat Base Refractory Anchor

V Shaped Corrugated Odd Leg Flat Base Refractory Anchor

V Shaped Bent Leg Flat Base Refractory Anchor

V Shaped H Base Refractory Anchor

V Shaped Corrugated H Base Type 1 Refractory Anchor
V Shaped Corrugated H Base Type 2 Refractory Anchor

V Shaped Corrugated H Base Type 3 Refractory Anchor
V Shaped Joined Base Refractory Anchor


V Shaped Down Winged Joined Base Refractory Anchor

V Shaped Odd Leg Joined Base Refractory Anchor

V Shaped Corrugated Short Leg Joined Base 1 Refractory Anchor

V Shaped Misshapen Corrugated Joined Base 2 Refractory Anchor

V Shaped U Base Refractory Anchor

V Shaped Corrugated U Base Refractory Anchor

V Shaped Odd leg Nutted U Base Refractory Anchor

V Shaped Down Winged Short Leg U Base Refractory Anchor
V Shaped Curved Winged Flat Base Refractory Anchor

V Shaped Corrugated Flat Base (Strip) Refractory Anchor

V Shaped Corrugated Joined Base (Strip) Refractory Anchor

Bell Anchor
Stainless Steel Refractory Anchors Price
bright finished Monel wedge anchor/eye bolt wedge anchor
US $0.03-$20.04 / Piece
High Strength Best price Titanium Refractory Anchor
US $0.20-$40.00 / Piece
Stainless Steel Refractory anchor heat insualtion anchor
US $0.60-$24.50 / Piece
High quality low price Hastelloy Refractory Anchors
US $0.008-$20.60 / Piece
Cities We Deliver To: Mumbai, Bengaluru, Chennai, New Delhi, Pimpri-Chinchwad, Houston, Dubai, Seoul, Hyderabad, Singapore, Abu Dhabi, Pune, Kolkata, Gurgaon, Navi Mumbai, Ahmedabad, Tehran, Calgary, Noida, Riyadh, Vadodara, London, Coimbatore, Jakarta, Istanbul, Bangkok, Kuwait City, Thane, Sharjah, Muscat, Edmonton, Busan, Mexico City, Doha, Jeddah, Aberdeen, Cairo, Geoje-si, Perth, Santiago, Chandigarh, Indore, Kuala Lumpur, Rio de Janeiro, Dammam, Melbourne, Madrid, Surat, Bhopal, Ulsan, Faridabad, La Victoria, Bogota, Lahore, Los Angeles, Algiers, Chiyoda, Ankara, Ho Chi Minh City, Toronto, Hong Kong, Rajkot, Brisbane, Petaling Jaya, Ernakulam, Secunderabad, Gimhae-si, Al Jubail, Port-of-Spain, Thiruvananthapuram, Milan, Atyrau, Lagos, Hanoi, Howrah, Sydney, Ahvaz, Karachi, New York, Caracas, Vung Tau, Al Khobar, Manama, Montreal, Granada, Courbevoie, Visakhapatnam, Ludhiana, Moscow, Dallas, Colombo
Countries We Deliver To: India, United States, United Arab Emirates, Canada, Pakistan, Peru, Chile, Spain, France, United Kingdom, Indonesia, Israel, Iran, Kuwait, Mexico, Malaysia, Nigeria, Serbia, Singapore, Taiwan, Chile, Venezuela, Ecuador, Saudi Arabia, Netherlands, Brazil, Colombia, Ghana, Iran, Denmark, Poland, Australia, Afghanistan, Bahrain, Costa Rica, Egypt, Iraq, Jordan, South Korea, Kazakhstan, Sri Lanka, Lithuania, Norway, Oman, Philippines, Poland, Qatar, Russia, Vietnam, South Africa, Nigeria, Mexico, Turkey, Hungary, Algeria, Angola, Argentina, Austria, Azerbaijan, Bangladesh, Belarus, Belgium, Bhutan, Bolivia, Bulgaria, Croatia, Czech Republic, Estonia, Finland, Greece, Italy, Japan, Libya, Romania, Thailand, Trinidad & Tobago,Tunisia, Ukraine, Yemen, Hong Kong, Gabon, China, Portugal, Switzerland, New Zealand, Sweden, Slovakia, Kenya, Lebanon, Morocco, Mongolia
Suppliers of SS 310 Anchor, Exporters of SS 310 Anchor, Manufacturers of SS 310 Anchor, Stockist of SS 310 Anchor, Dealers of SS 310 Anchor